Awards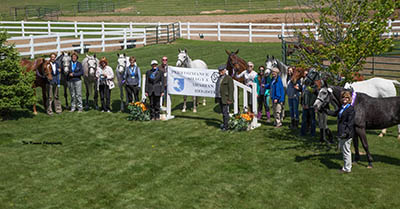 PShR Annual Awards Program
In celebration of a breed that dates back 200 years to the famous military stud farms of the Austro-Hungarian monarchy, the Performance Shagya-Arabian Registry, PShR, Annual Awards Program highlights the versatility of this noble Sport Horse.
As part of its mission, the Performance Shagya-Arabian Registry offers a variety of awards to its eligible members that recognize achievements of PShR registered horses in various horse disciplines, currently including Competitive Driving, Competitive Trail, Endurance, Dressage, Eventing (Horse Trials), Hunter/Jumper, Limited Distance, and Sport Horse In-Hand. The Awards Program commemorates excellence in breeding with recognition for Meritorious Sire and Meritorious Dam. And the unique 'Shagya Ambassador' award celebrates non-competitive activities including parades, horse fairs, clinics, lessons, arena work and trail rides.
The Performance Shagya-Arabian Registry Board of Directors may add other Western or English disciplines to the awards program in the future; members should contact the Board with any recommendations. Any individual or group, farm or other business wanting to sponsor an end-of-year award can contact the Awards Chairperson. Your sponsorship will be posted on the PShR website in the Awards section. Development of traveling trophies is welcomed!
Horse/Rider teams must complete a minimum of two competitions to be eligible for year end awards. All competitions must be approved events, recognized by a regional or national organization. The American Endurance Ride Conference (AERC), Upper Midwest Endurance & Competitive Rides Association (UMECRA), North American Trail Ride Conference (NATRC), Arabian Horse Association (AHA), United States Eventing Association (USEA), and the United States Dressage Federation (USDF) are examples of approved sanctioning organizations. If a rider is in doubt of the sanctioning organization, please contact the PShR Award Chairperson for clarification before the event. One CHAMPION and one RESERVE CHAMPION Senior and Junior rider will be named for each discipline at each level of competition.  Additional qualifying horse/rider teams will receive an Honorable Mention.
The competition year is from December 1 to November 30th of the following year (the year used to identify the period of competition). To be eligible to receive year-end awards the horse must be registered with the Performance Shagya-Arabian Registry. Additionally, Rider and Owner must have paid membership dues to the PShR for the competition year. A Nomination Form for each horse in each discipline must be submitted to the PShR Treasurer with appropriate fees postmarked at least 7 days prior to their first event in order for scores to count.
All results must be reported to the Awards Chair by December 10th, and must be accompanied by placing/results from an official source of a regional or national organization (e.g., results posted on the internet, a competition points sheet signed by the event manager, etc.).
Submit your Nomination Form and check for $10 per division to:
Holly Kemmis
PShR Treasurer
N6962 Jennifer Drive
Plymouth, WI 53073
Submit your score sheets (all divisions) to:
Marty Power
PShR Awards Chair
2317 2350th Street
McLean, IL 61754-9303
Click on the link below to go to the individual program documentation and entry form.
*Budapest Memorial Dressage Award
Competitive Drive Nomination Form
Competitive Trail Ride Nomination Form
High Point and Versatility Nomination Form
Limited Distance Nomination Form
Meritorious Sire and Meritorious Dam Nomination Form
Shagya Ambassador Nomination Form