Why an Inspection?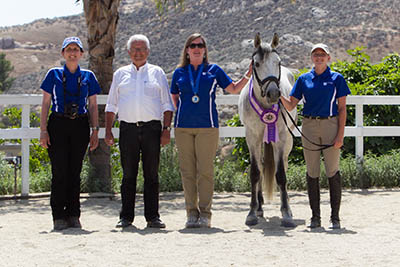 The Shagya-Arabian was started in 1789 when the Hungarian military set out to develop a new breed of horse that combined the very best of Bedouin Arabians -- elegance, endurance, hardiness, athleticism, temperament, and devotion to their rider -- with larger size, jumping ability, and riding ease to master the rigors and versatility of a cavalry horse. Right from the outset, performance testing was regarded as essential and the PShR is committed to insuring that performance testing remains part of the inspection process.
The characteristics of the Shagya-Arabian are well established; they should have the appearance of a beautiful, elegant, and harmonious riding horse with correctness of gaits and movements, who enjoys jumping and has good jumping ability, has pleasant rhythm and rideability, is trusting, good natured, and willing to learn, and has robust health, longevity, and fertility with stamina and frugality. Although there is no longer a military need for Shagyas, all the noble qualities the breed possesses, make it an ideal horse. Today's Shagya-Arabian is a rare, but versatile sport horse equally at home at dressage, eventing, show jumping, hunting, endurance, harness, or pleasure riding.
The PShR prides itself in combining the traditional testing procedures used worldwide with modern standards including the Interior test and mare performance testing. Testing provides valuable information for not only breeders seeking appropriate breeding stock, it provides documented information for buyers seeking accurate information when selecting the perfect riding horse.